Reseller Program
Reseller Program
We've been excited about the number of people who love the Fryin' Saucer and have asked to become resellers. So, we've put together a simple reseller plan that lets you earn 10% of any sales you send our way, excluding tax and shipping. It's free to sign up and you'll be paid your percentage each month. Just follow these simple steps!
1. Click on the menu item that says "Reseller Signup & Login". Fill out the reseller form (the lower half of the form) with your full name, the user name you'd like to use to log in to the reseller portion of the site and your valid email address. If you have a website where you will be placing the links, you can fill that box in too, but it is optional.
2. Click the "Sign Up" button and then go check your email. If you don't receive an automated message from us within 15 minutes, go check your spam folder just in case it is there. (If it is in your spam folder, be sure to use your filter options in your email program to accept future emails from Fryin' Saucer Guys so that your reseller updates don't go into the spam folder.)
3. This email will contain the user name that you picked out plus a randomly generated password. Go back to the thefryinsaucercompany.com website and click the Reseller menu link again.
4. Log in with your user name and the password you just received by email in the top half of the Reseller form and click "Login". You will now see your Reseller page, with the affiliate links you need to use on your website or send to your friends and family to get credit for each sale you make.
Your page should look like the one below with a unique affiliate number assigned to you. (Don't use the links in the example or we'll get credit for the sale!)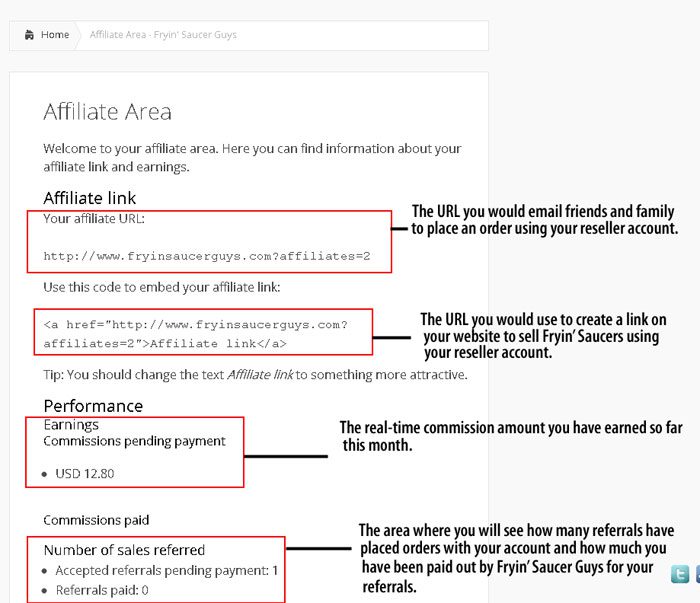 5. Email your reseller link to friends or family so that they can make purchases and you'll get your 10%!  You can also click here to download banner ads and logos that you can post on your web site or on Facebook or Twitter or Pinterest.  Just make sure to include the URL link by either embedding it with the picture using HTML  or including it underneath the banner.
6.  We'll be paying out commissions at the end of each month.  When you sign up as an affiliate, we'll email you an additional form to get your payment contact information.   Initially, we will be paying by check or PayPal,  but as the program grows, we may add additional options.
So, that's it! We hope you want to take part to get the word out about this fantastic and fun way to fry food almost anywhere!  If you have questions, drop us a note or call us at 1-800-803-5052 and we'll get back to you promptly.